Workslam is an innovative platform for team management and employee recognition, a project management system and a CRM.
Teamwork
It includes an employee motivation system, an employee assessment system, a corporate messenger that can be used as a system of maintaining and supporting clients, creating group chats.
Workspace
Track the current situation for each business process, analyze the tasks and success of employees.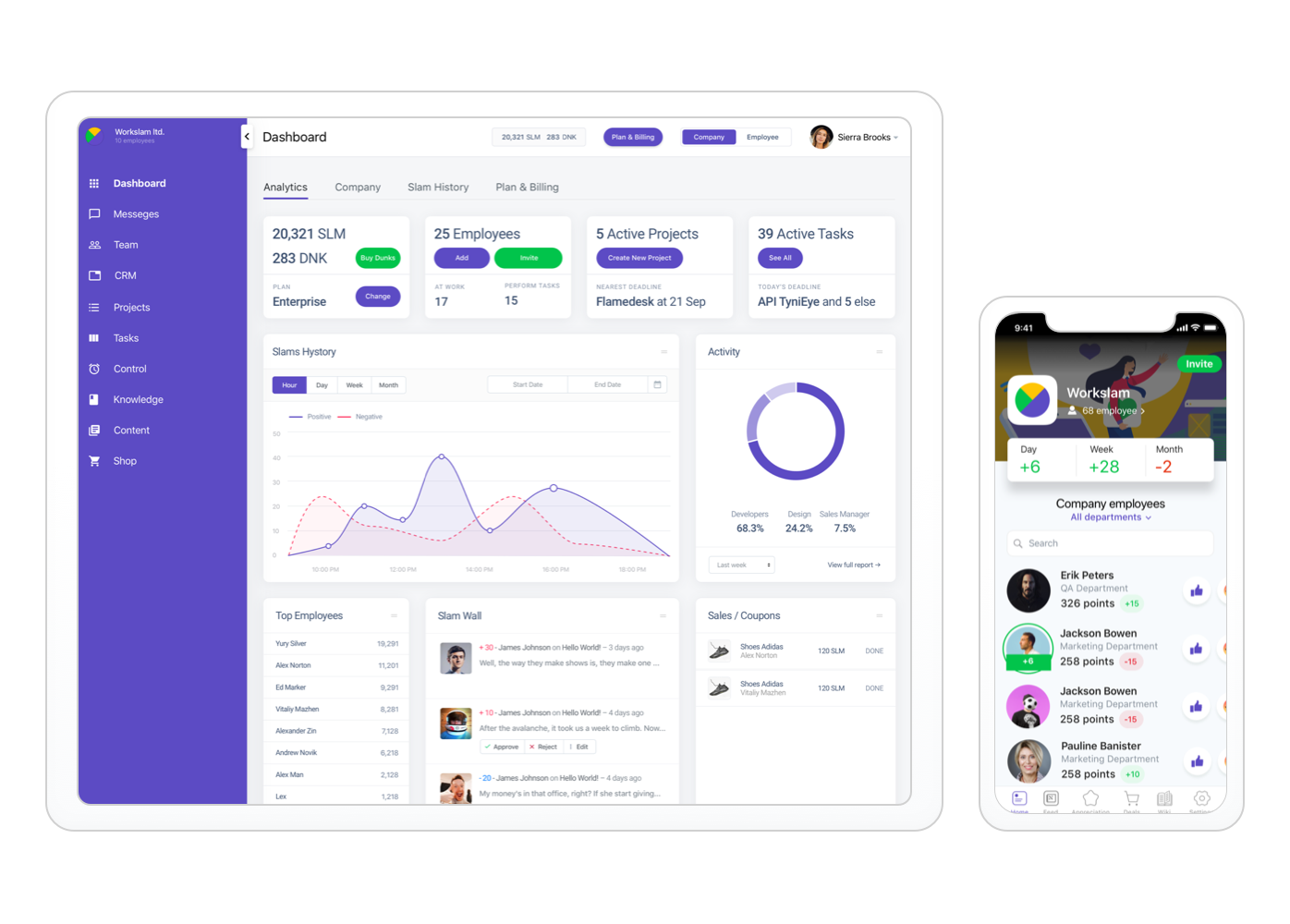 Employee motivation
Encourage employee success and motivate them to work even better. Ample opportunities for involving all team members in the work.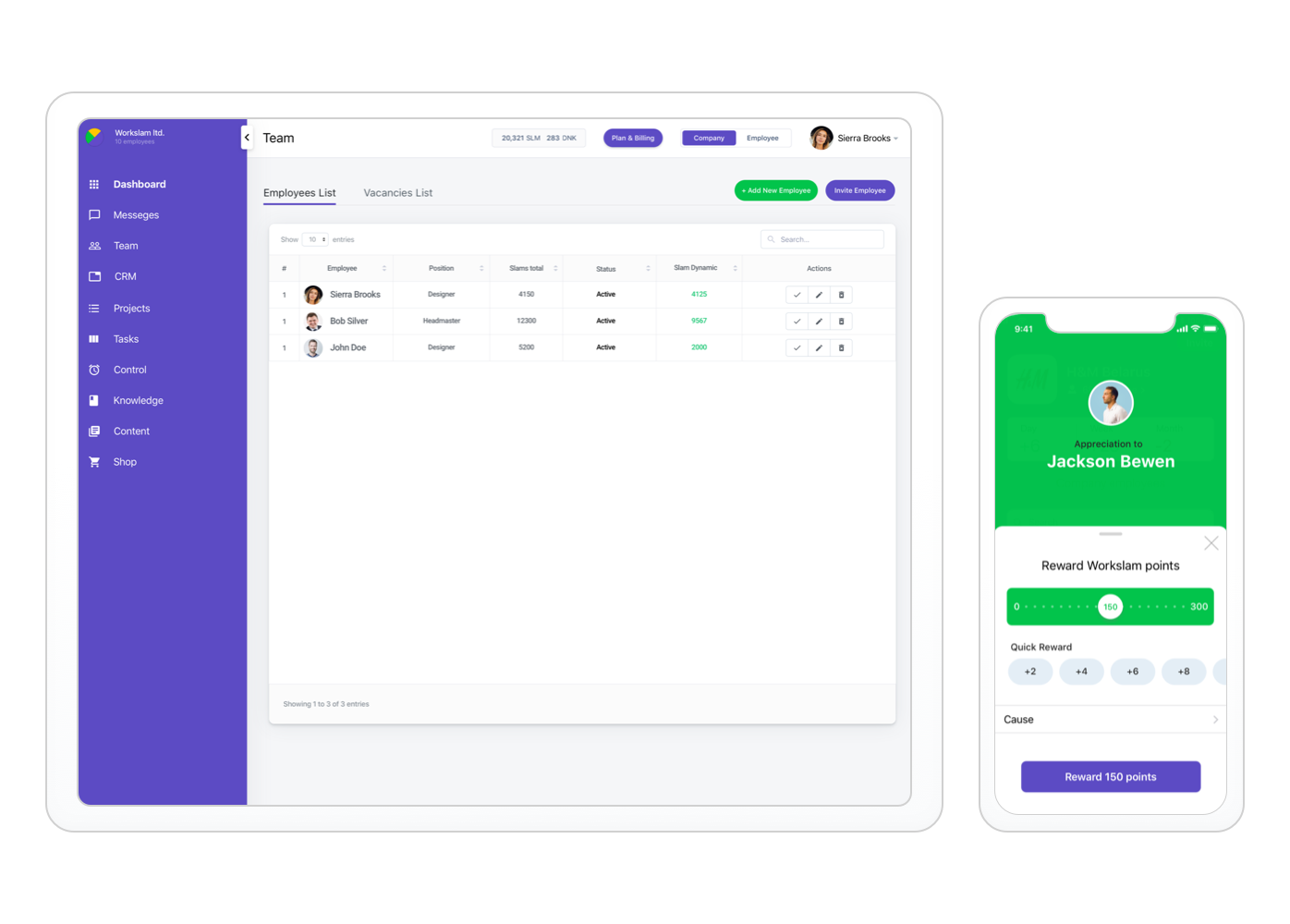 Employee Assessment
The system allows team members to evaluate the work of colleagues in all key parameters, and managers to analyze statistics.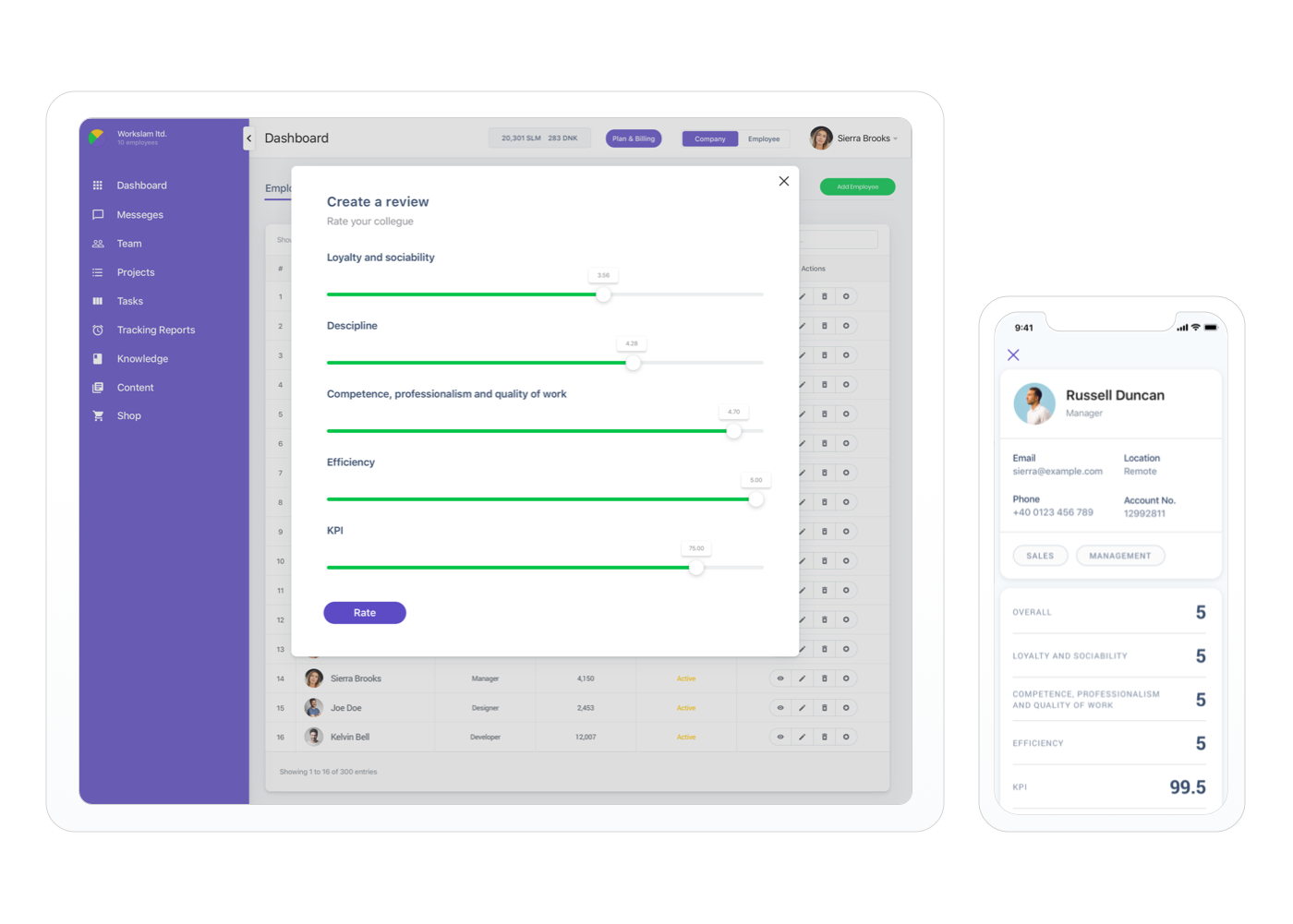 Corporate messenger and customer support system
Corporate messenger can be used as a system of maintaining and supporting customers by creating group chats.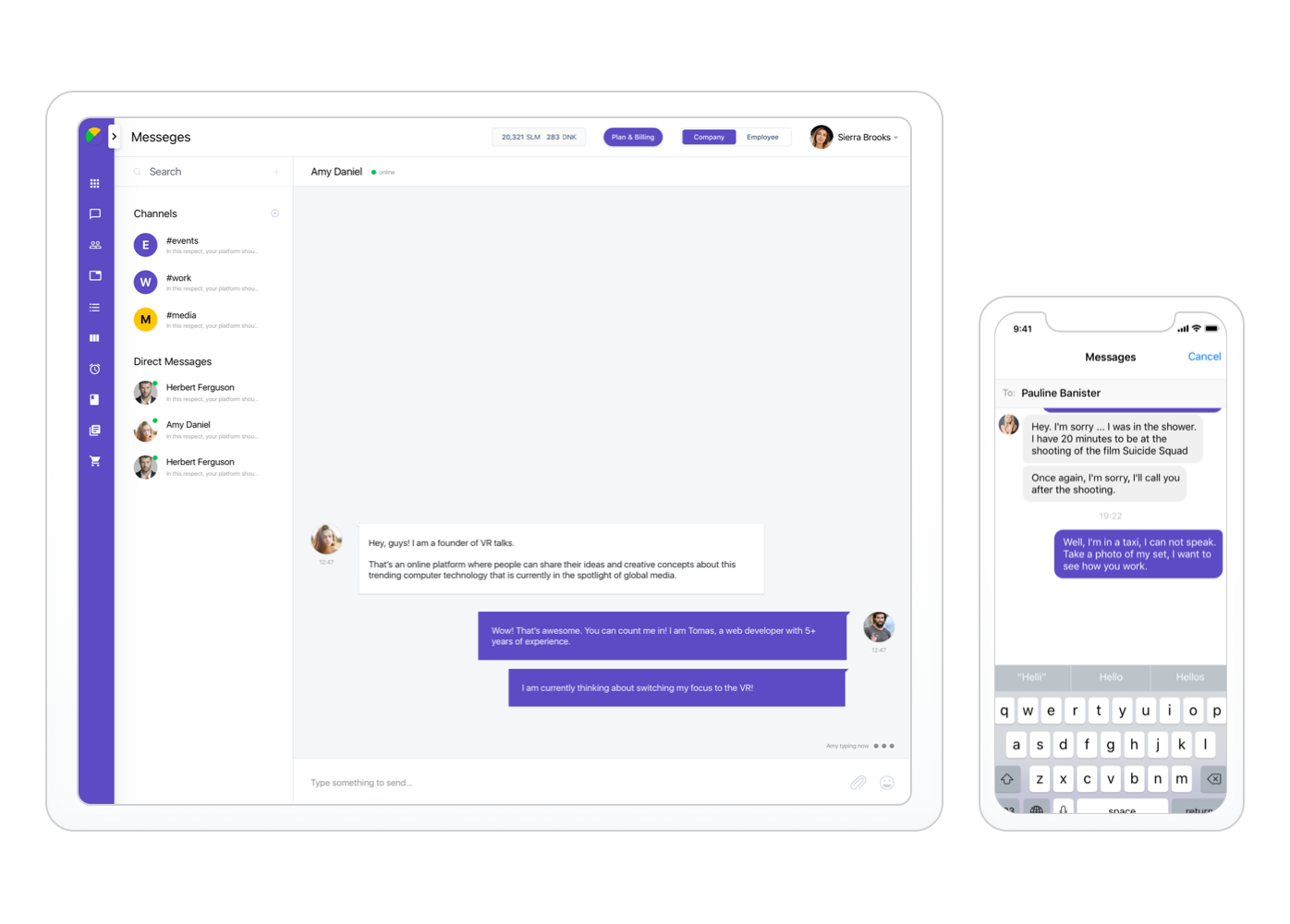 Project management
It contains a convenient planning format in Gantt Charts and a modern kanban-type task management.
Projects
Create new projects, control the timing and stages of their implementation.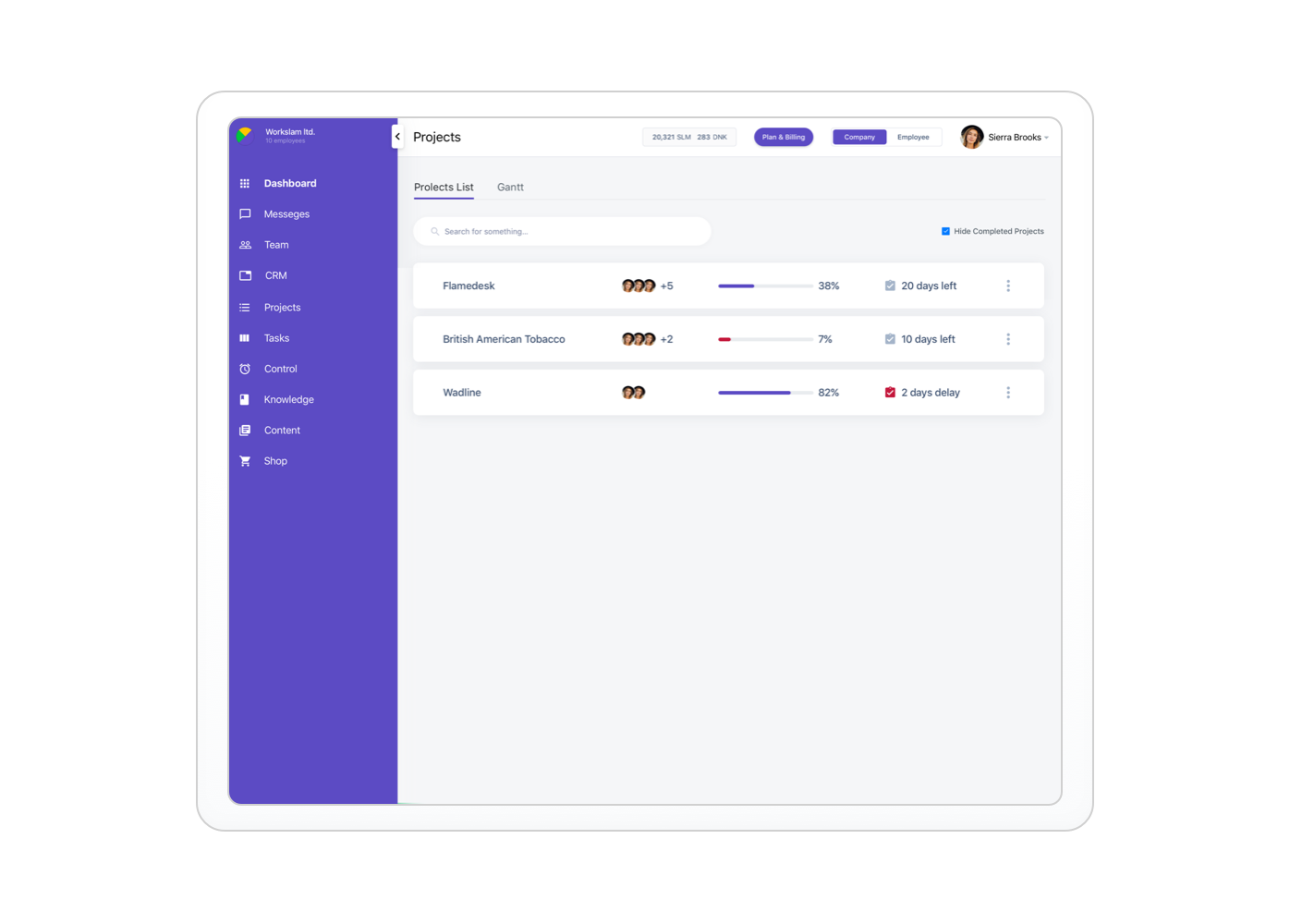 Gantt Chart
For more accurate planning of the team, use the Gantt chart. It simplifies planning, even with a huge number of tasks.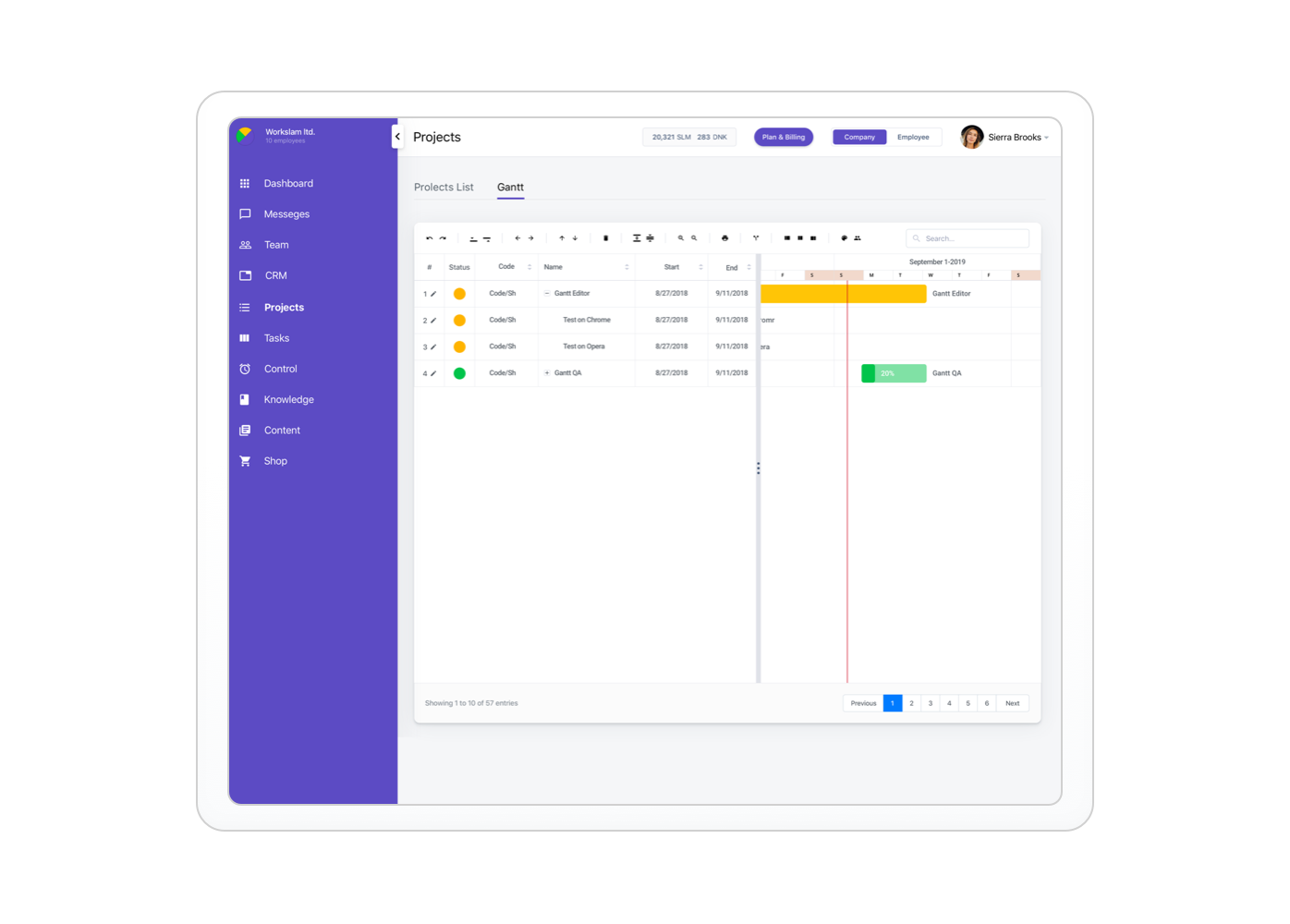 Tasks
Set tasks easily and quickly for yourself and your subordinates. In the task, create a checklist from the to-do list, determine the importance and track performance.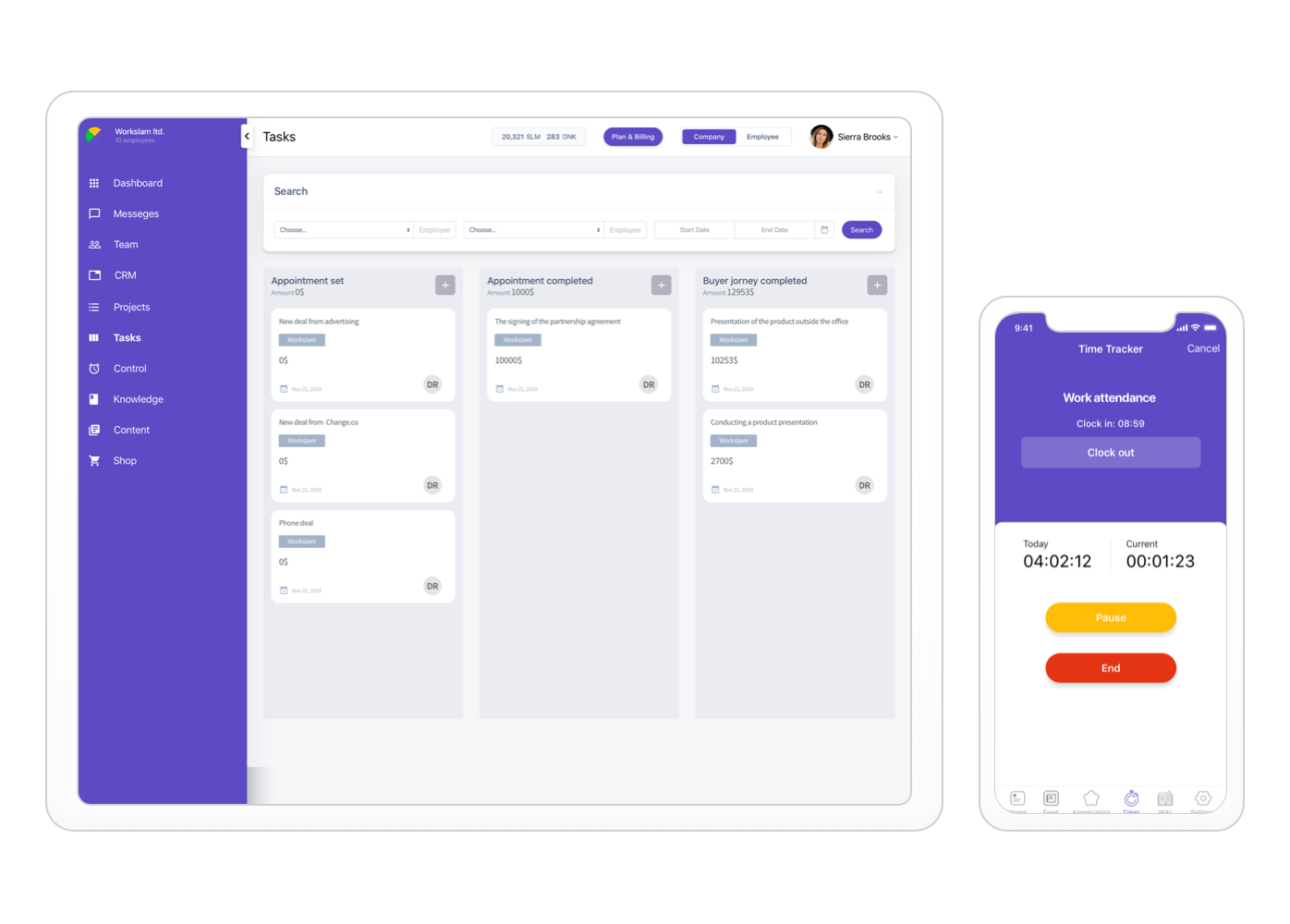 CRM system
It has customizable sales funnels, transactions have a convenient kanban-card format, contacts have a quick search in all fields.
Contacts
Contacts, all correspondence and records of conversations with customers are stored in CRM. No potential customer will be lost.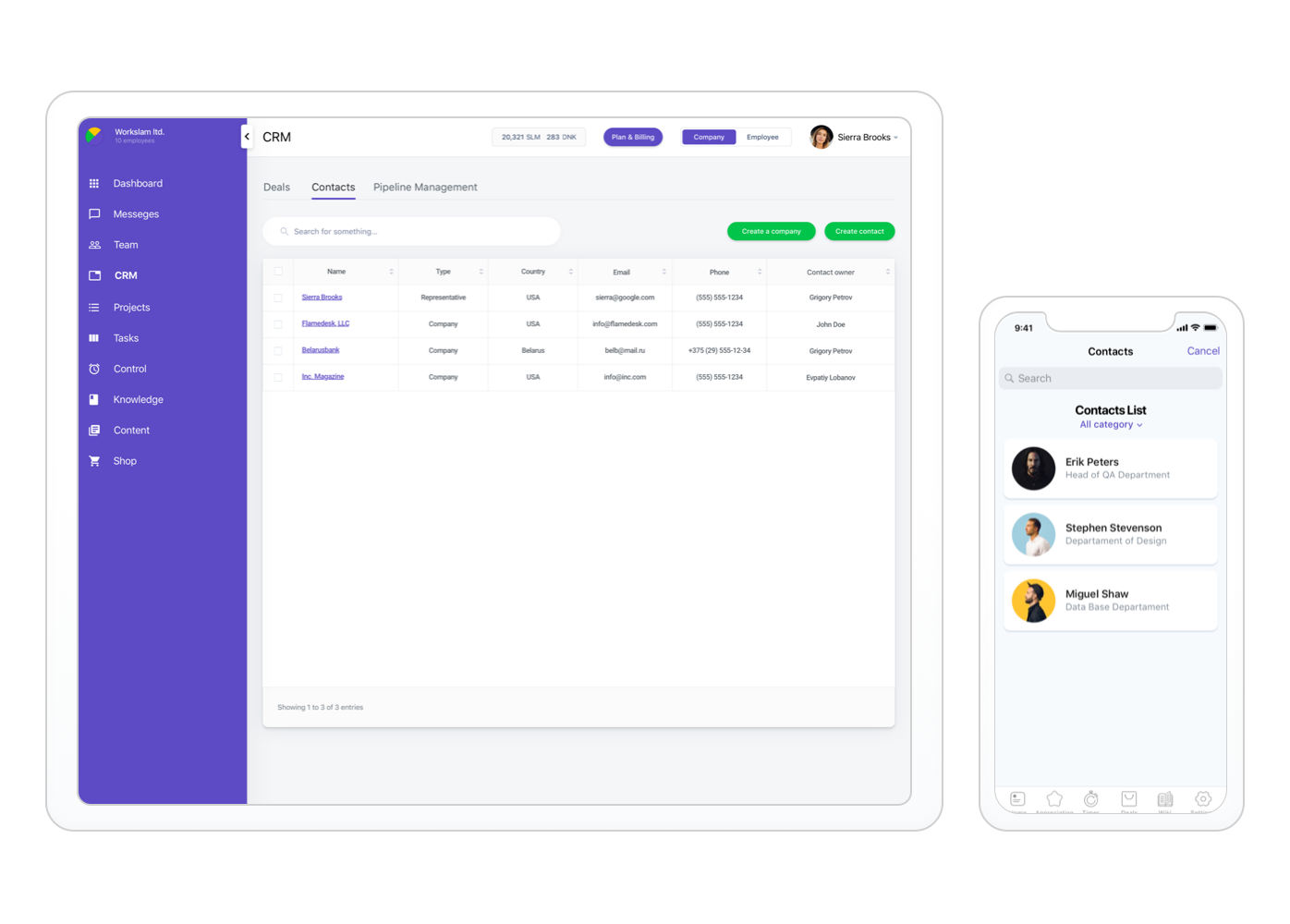 Funnels
Set up funnels to your business specifics. There are no restrictions on their quantity.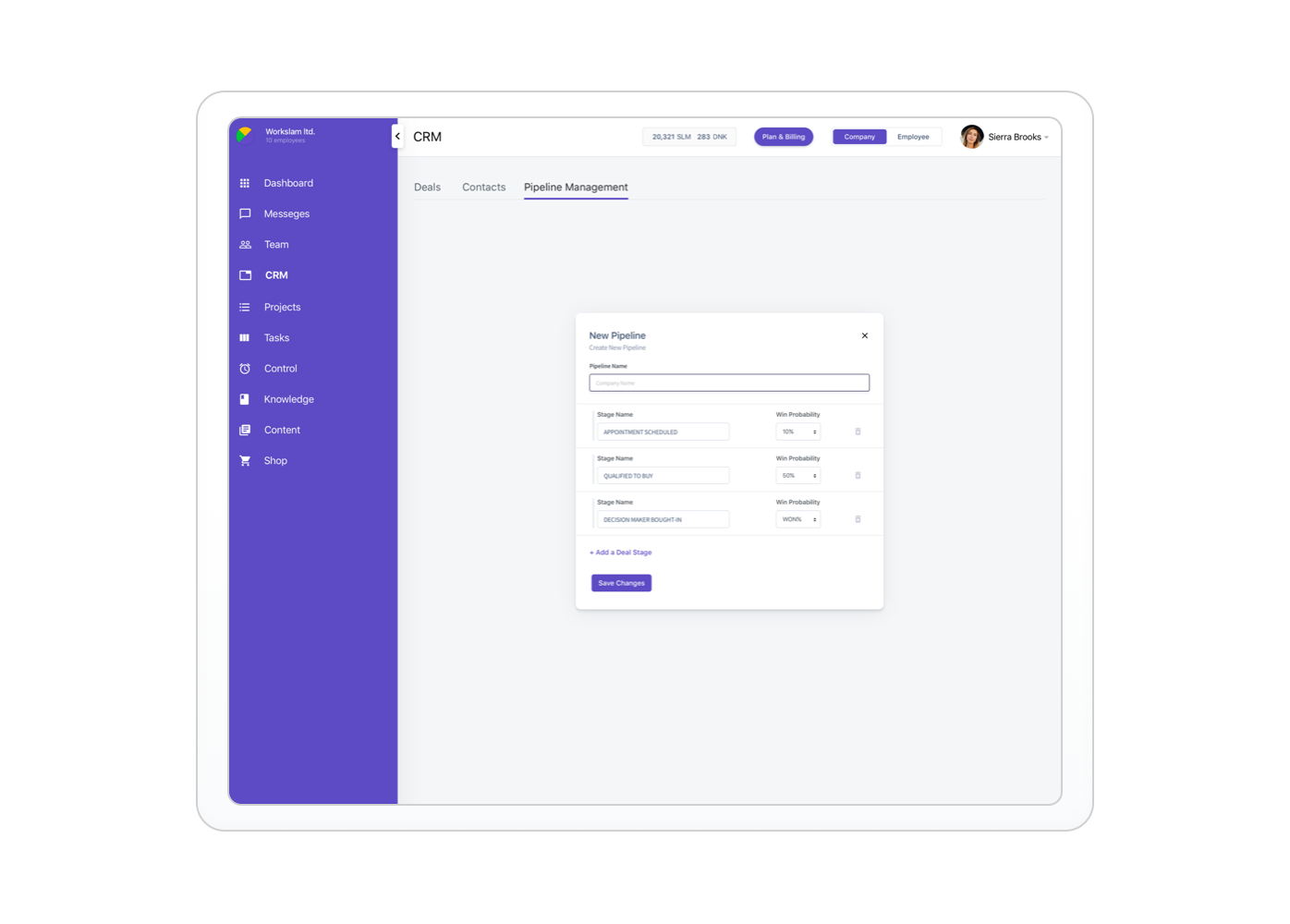 Deals
Simple operation. You see how many requests are being processed, at what stage they are, who is currently working on them.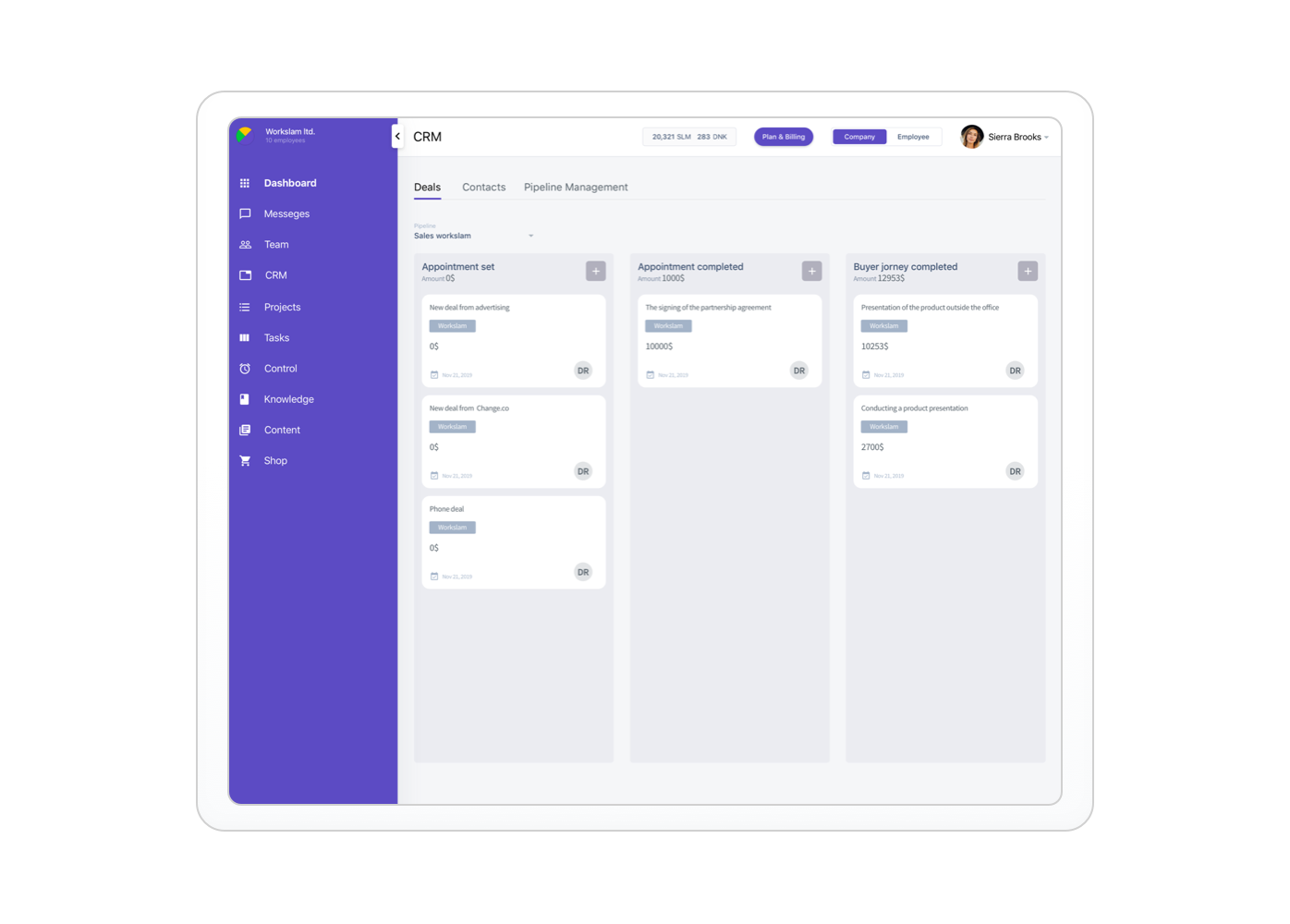 Monitoring and reporting system
Shows statistics on employee attendance, reports on working hours and tasks, as well as a geo-tracker that allows you to track the location of remote employees.
Employee statistics and reports
Monitor employee performance with statistics. Analyze and optimize team work.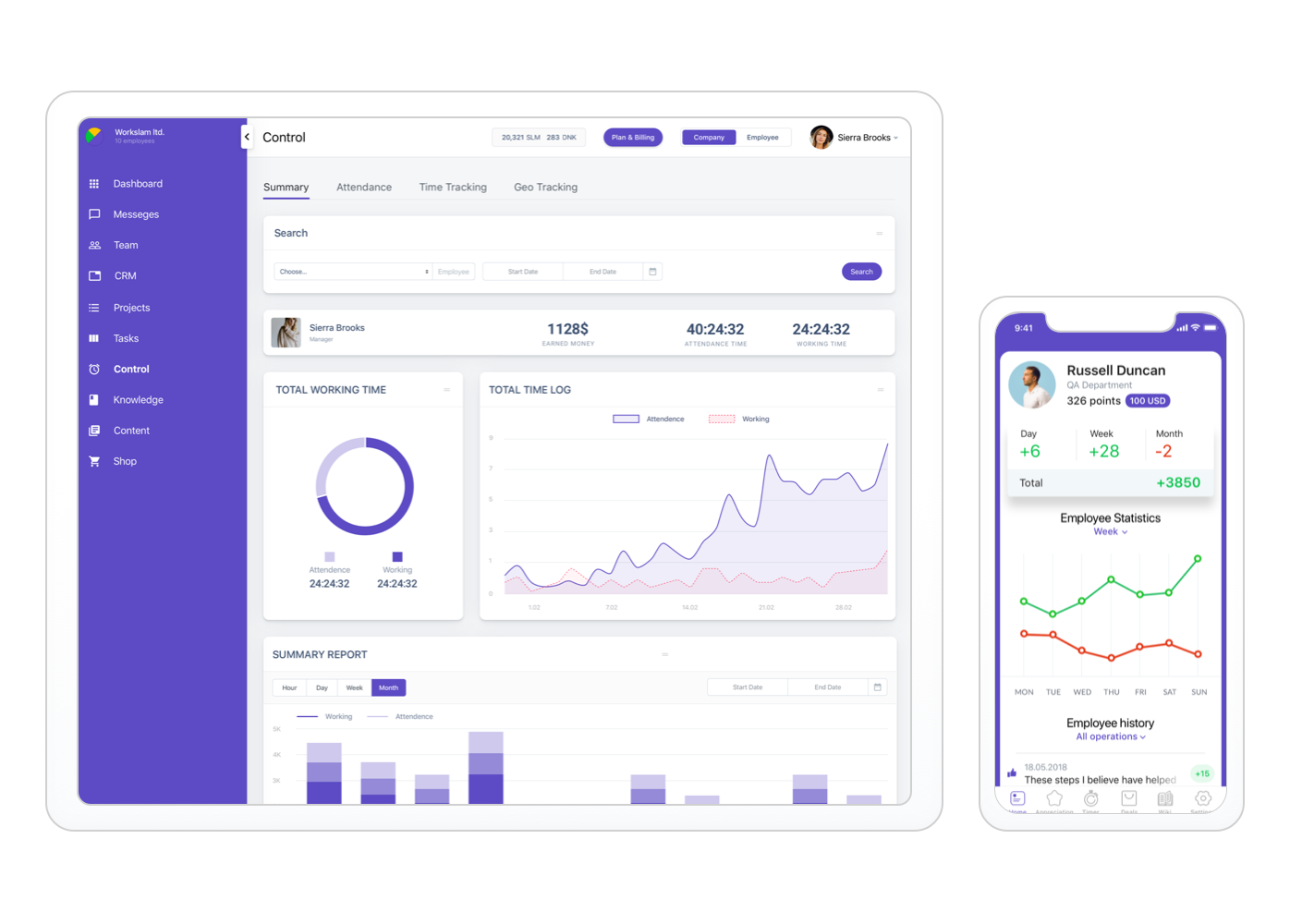 Geo tracker
Determine the location of your employee during working hours. Based on the data received, it is easy to optimize the team workflow.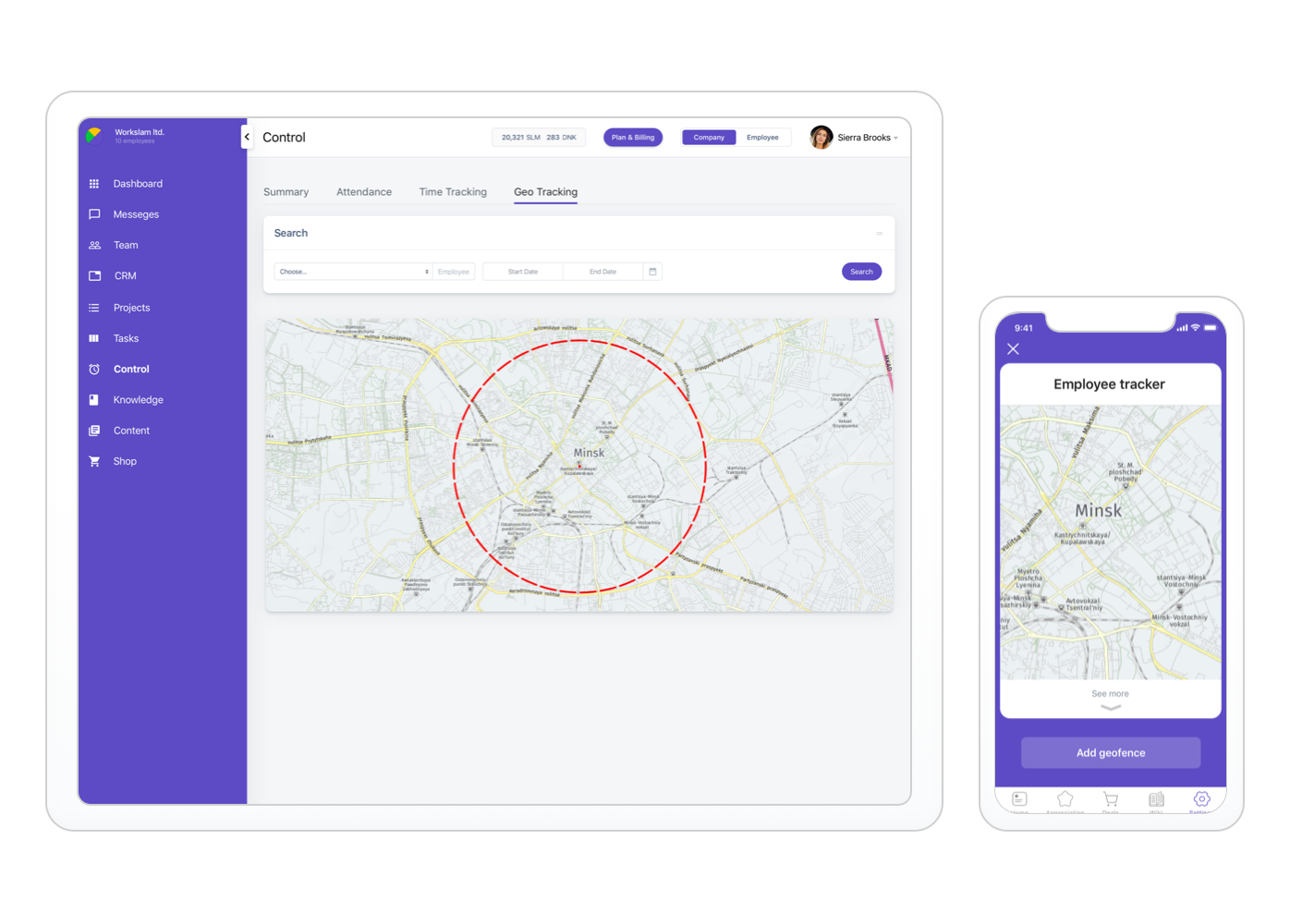 Attendance reports
Fix the beginning and end of the working day, consider the hours worked.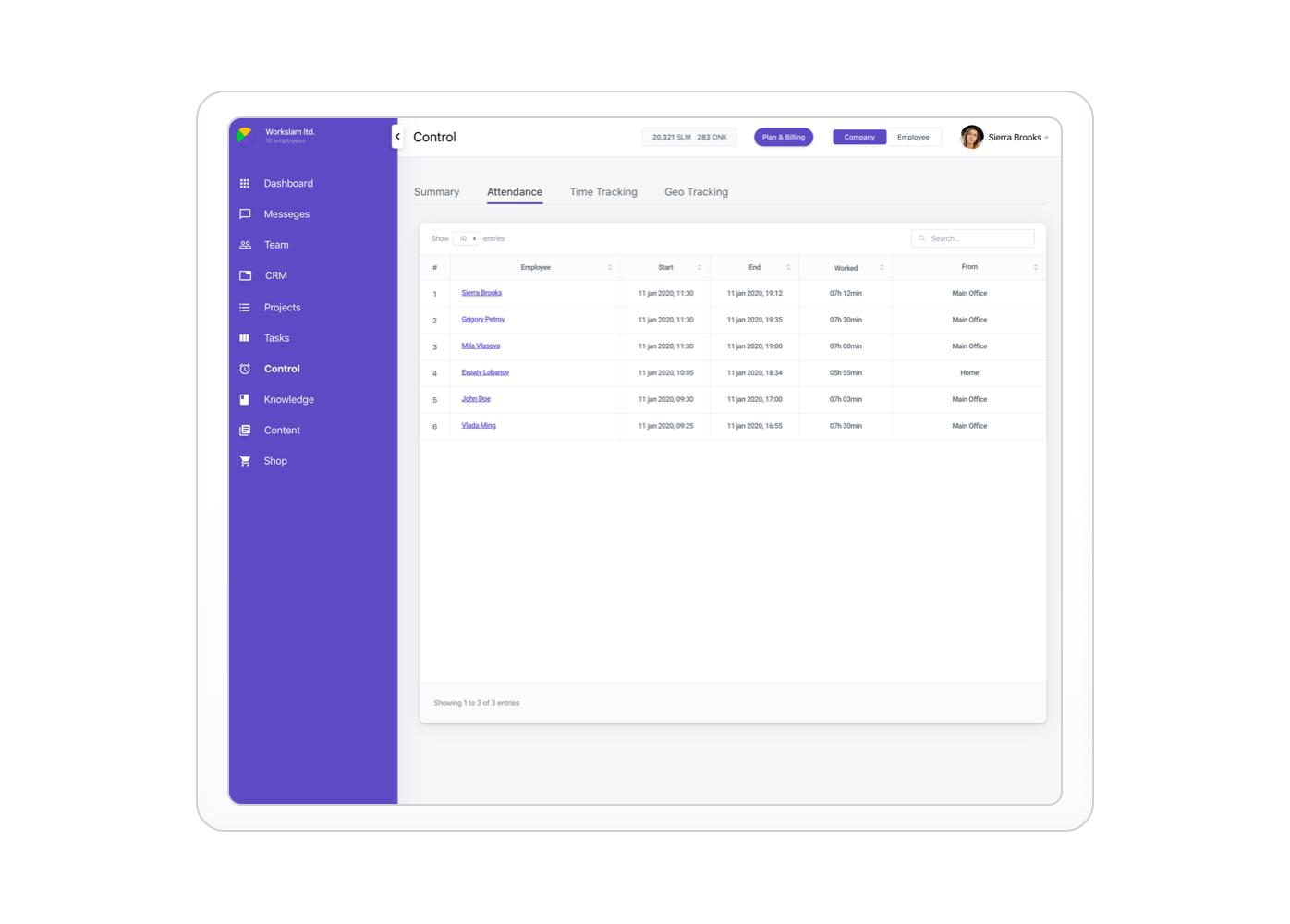 Employee time reports
Create time sheets for various operating modes and adjust the plans of your employees, checking with what was planned.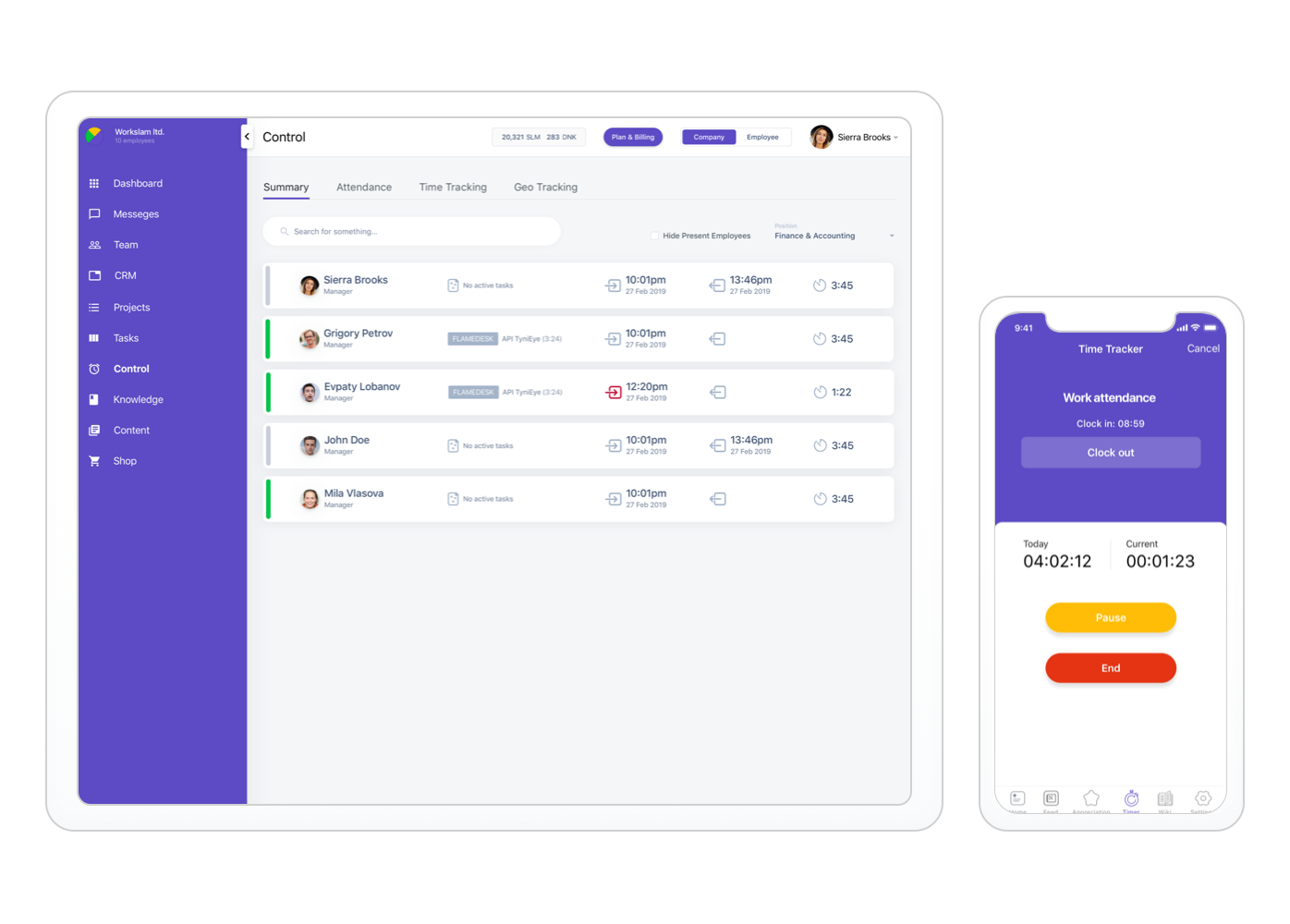 Corporate Portal
It contains a convenient system of corporate knowledge, company news and events.
Corporate knowledge
The structured knowledge base of the company is constantly updated and easily managed by all employees of the company.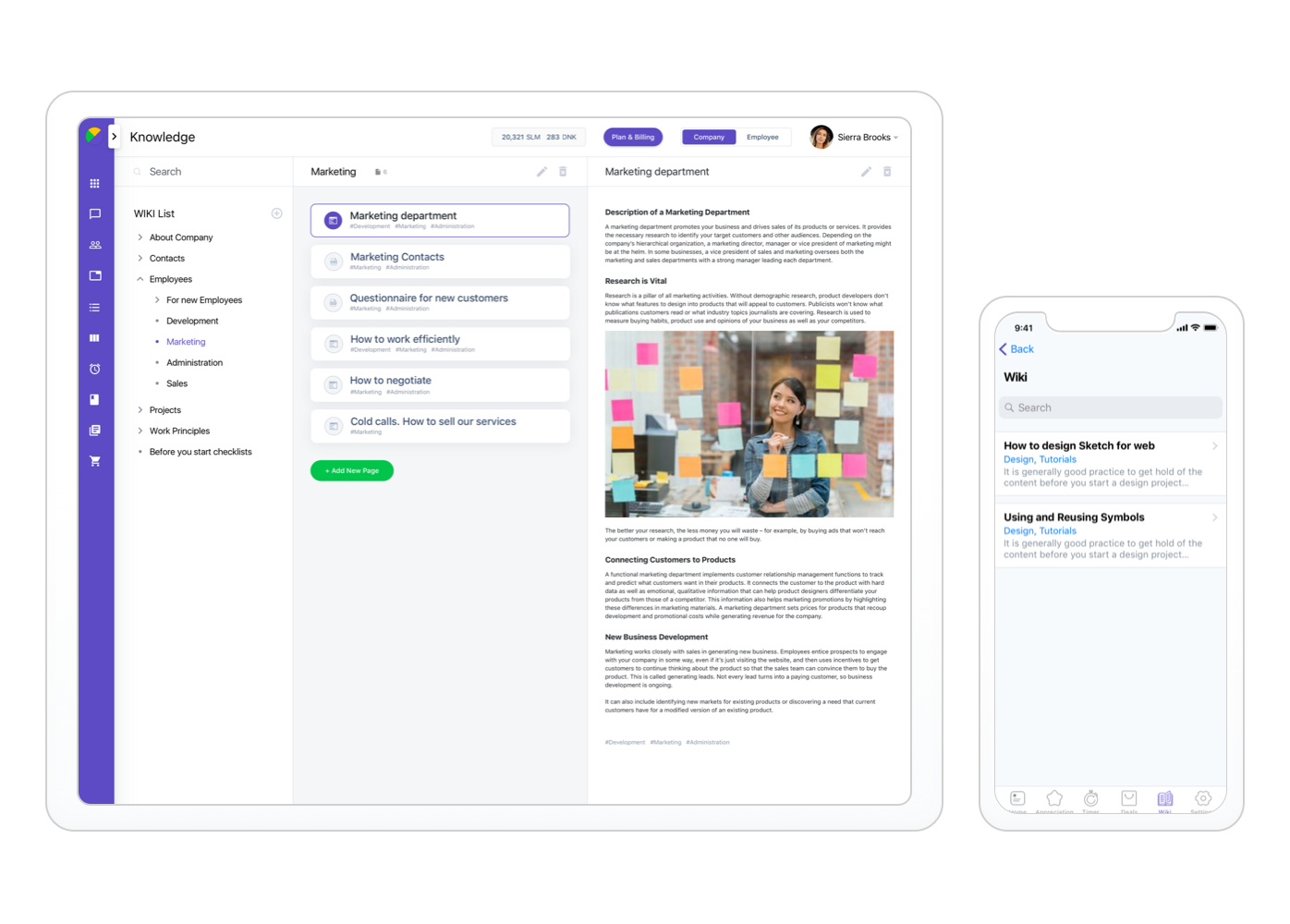 News
Share interesting information with your employees or the entire community. The news feed will help to engage employees in the life of the company.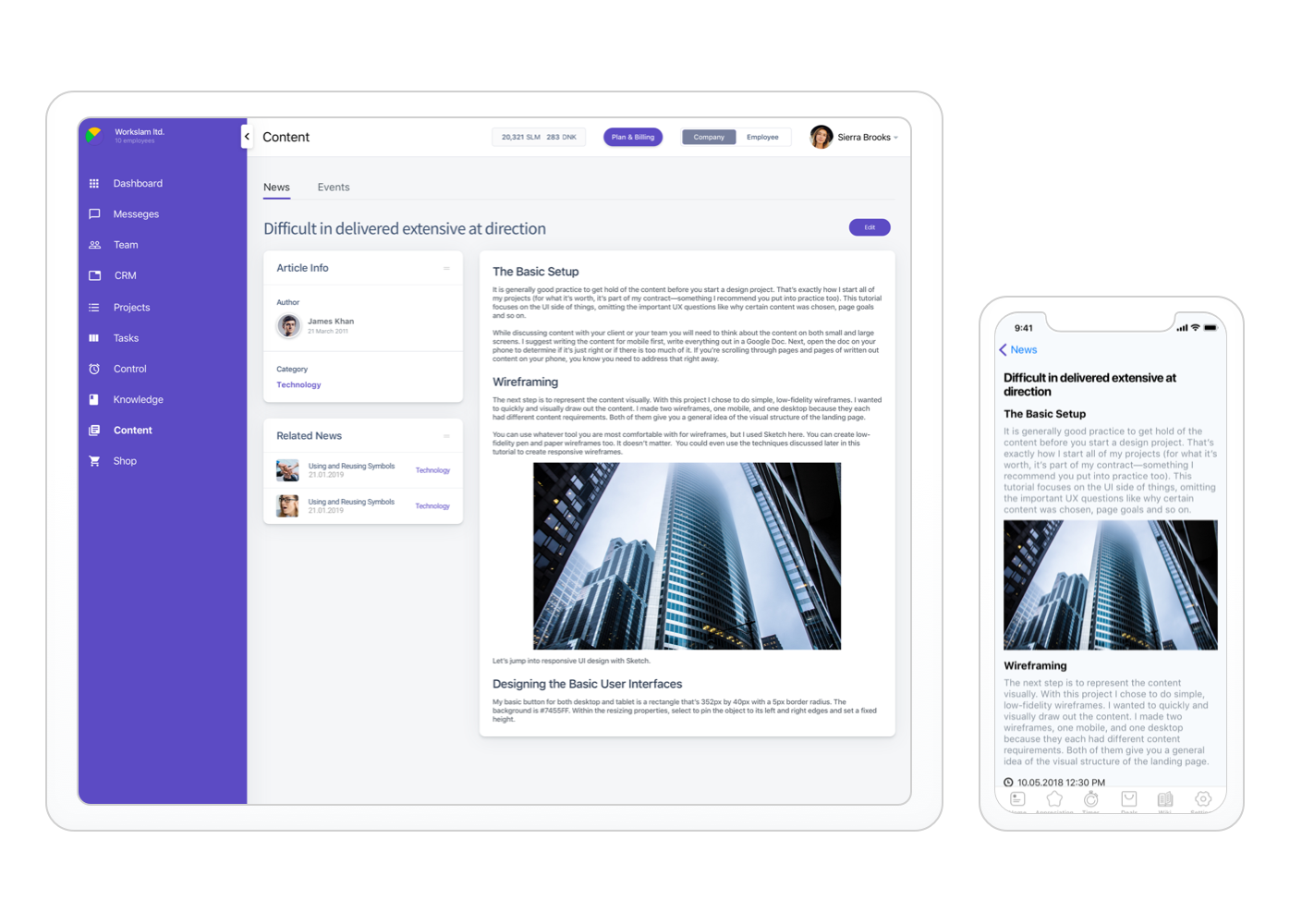 Events
The planner will help you instantly find the meeting time that is suitable for all participants.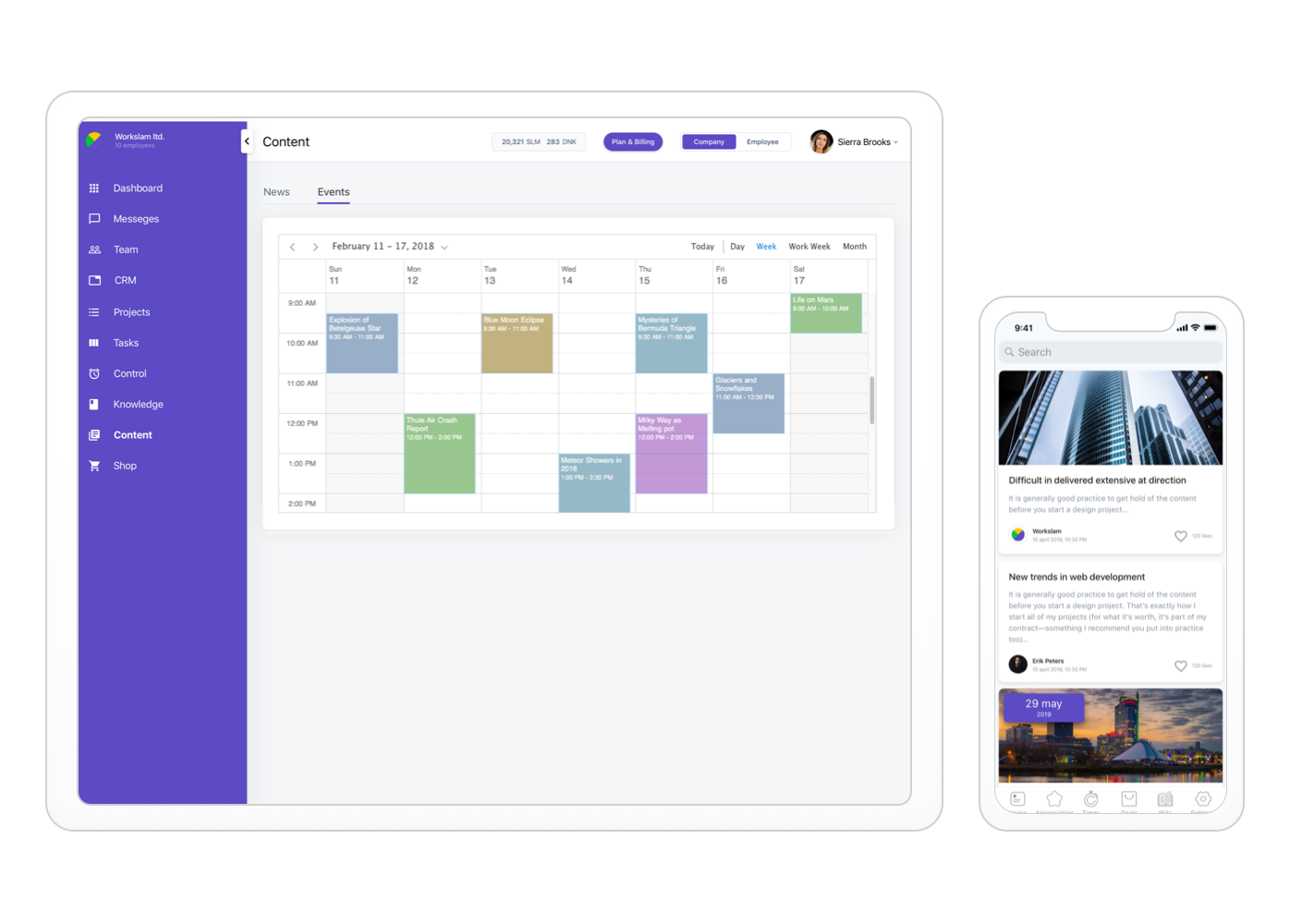 Mobile
Workslam is available on any device - free iOS apps in the AppStore and Android on Google Play.
IOS mobile app
Interact with the team, promote, manage, train, control, plan and improve the workflow on all Apple devices.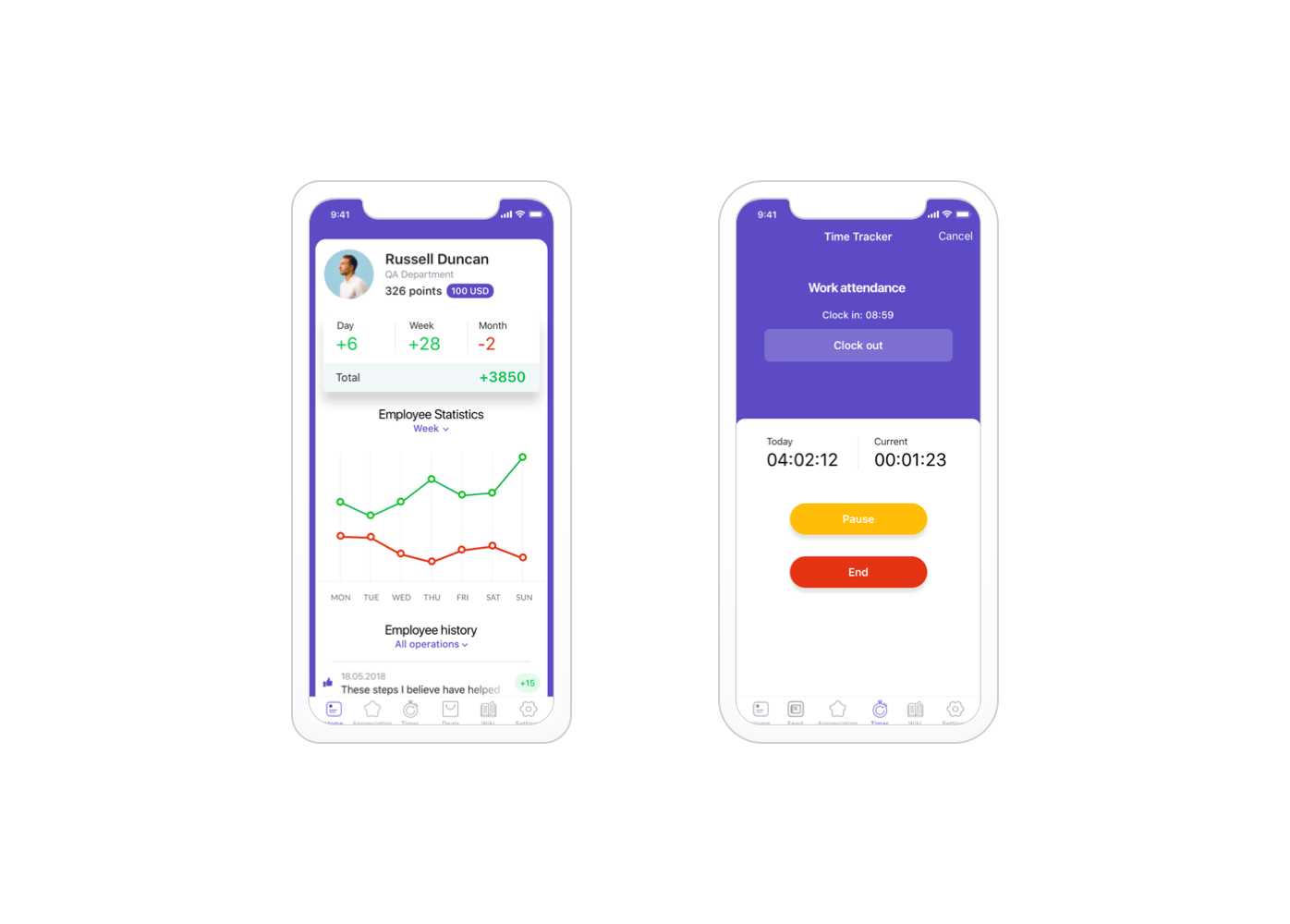 Android mobile app
Interact with the team, promote, manage, train, control, plan and improve the workflow on all Android devices.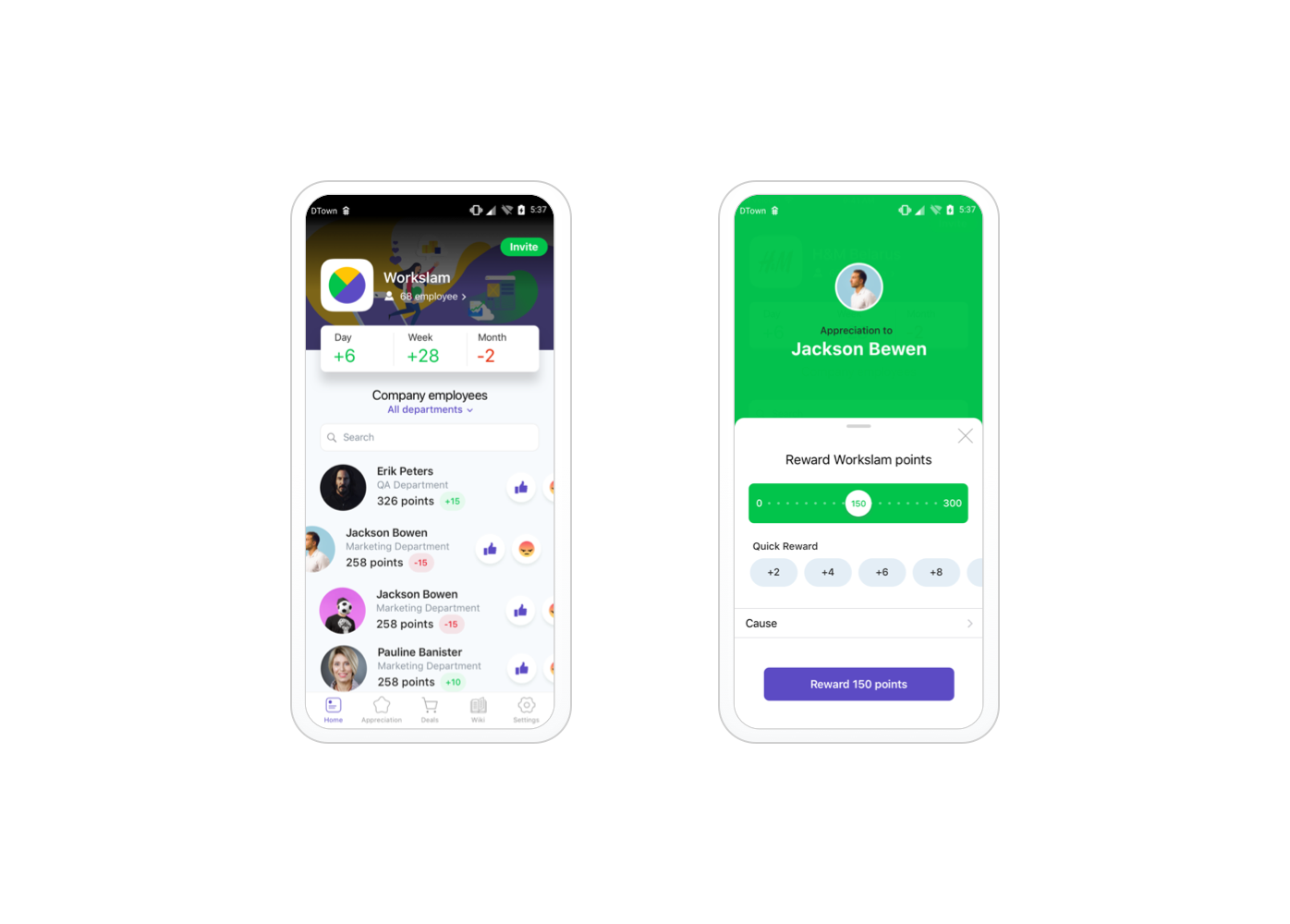 Beta functionality
We are constantly developing, soon the functionality of the marketplace and integration will become available, as well as much more.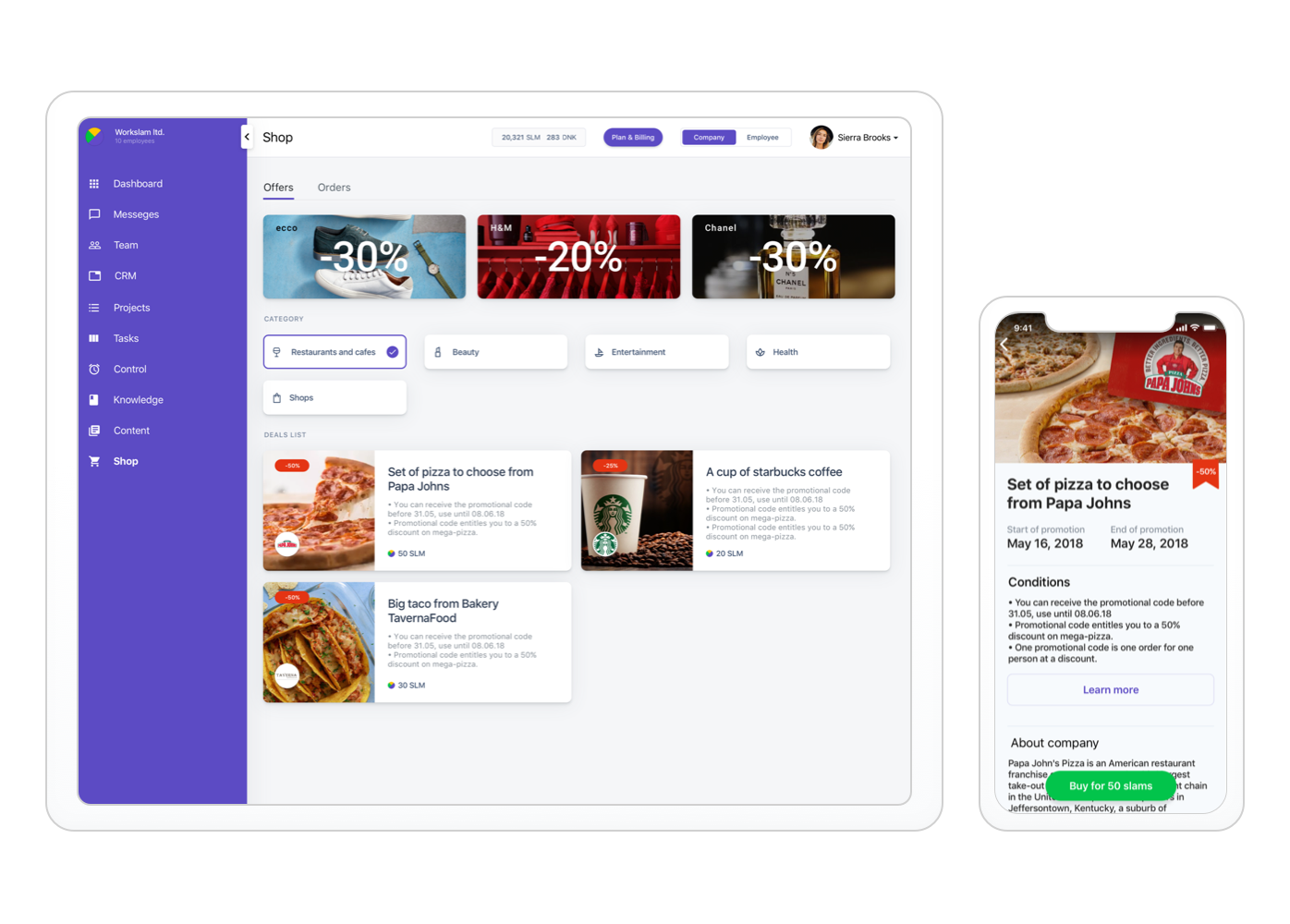 Marketplace
In the near future, the functionality of the marketplace will become available, where employees can enjoy discounts and interesting offers from partners, as well as purchase goods.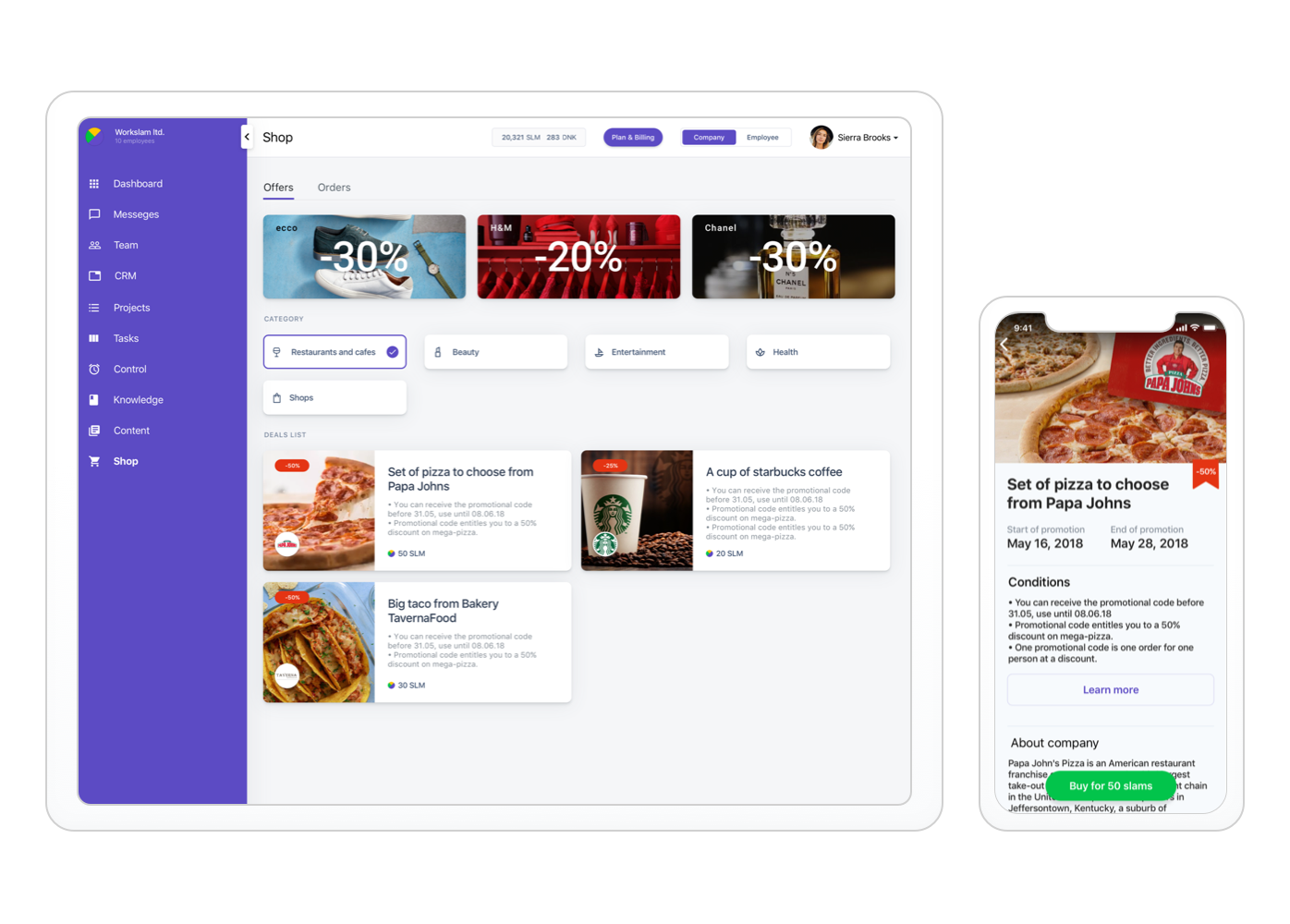 Telegram Bot
We launch the telegram of the bot, which will tell you about your tasks, remind you of the deadlines, notify you of important events.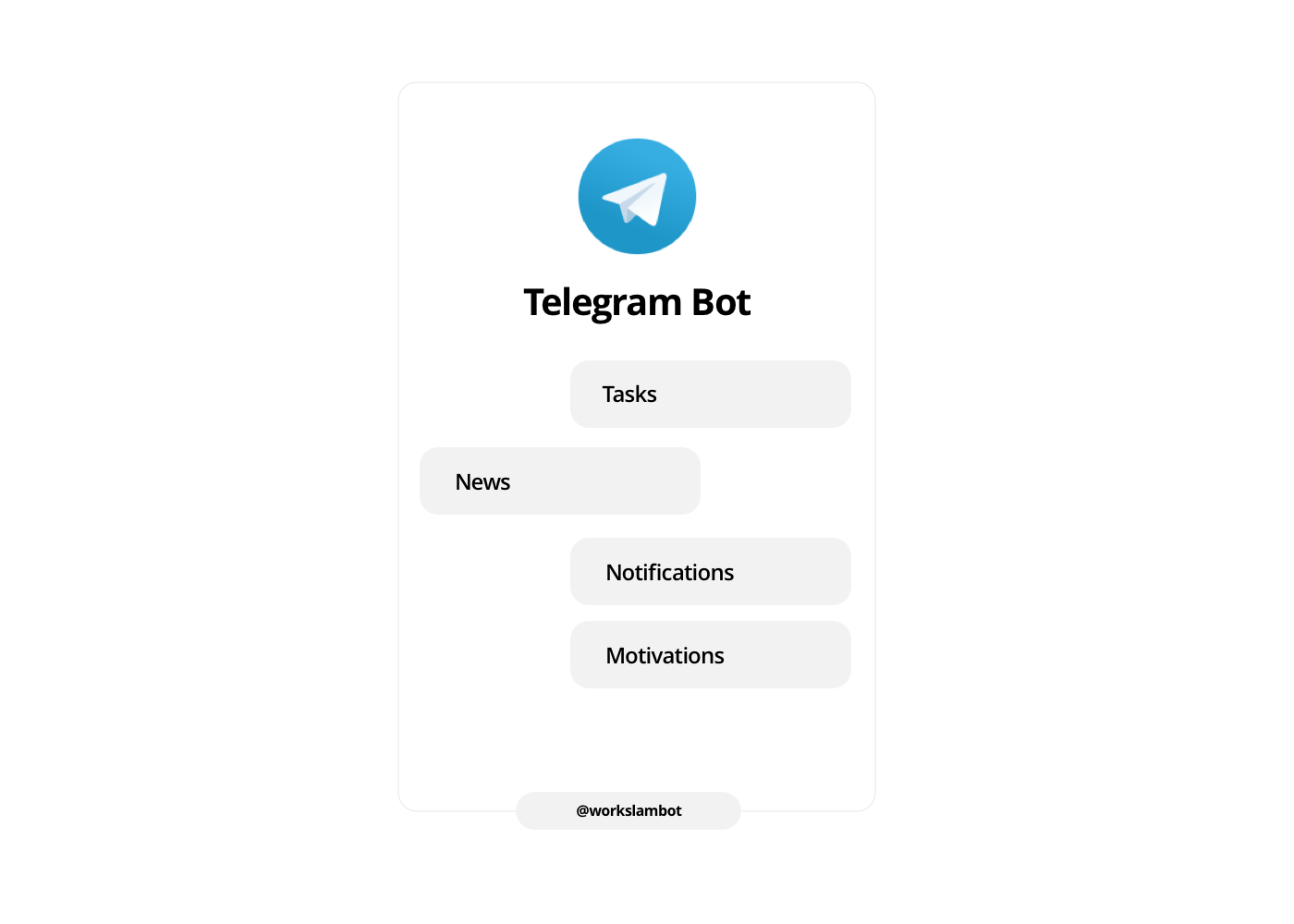 Integrations and APIs
Soon we will open the functionality of integration into thousands of services